sun09dec4:00 pmsun6:00 pm3rd Annual MaccaTEEN Mixer!4:00 pm - 6:00 pm The JQlubJQ Department:Teen JQSA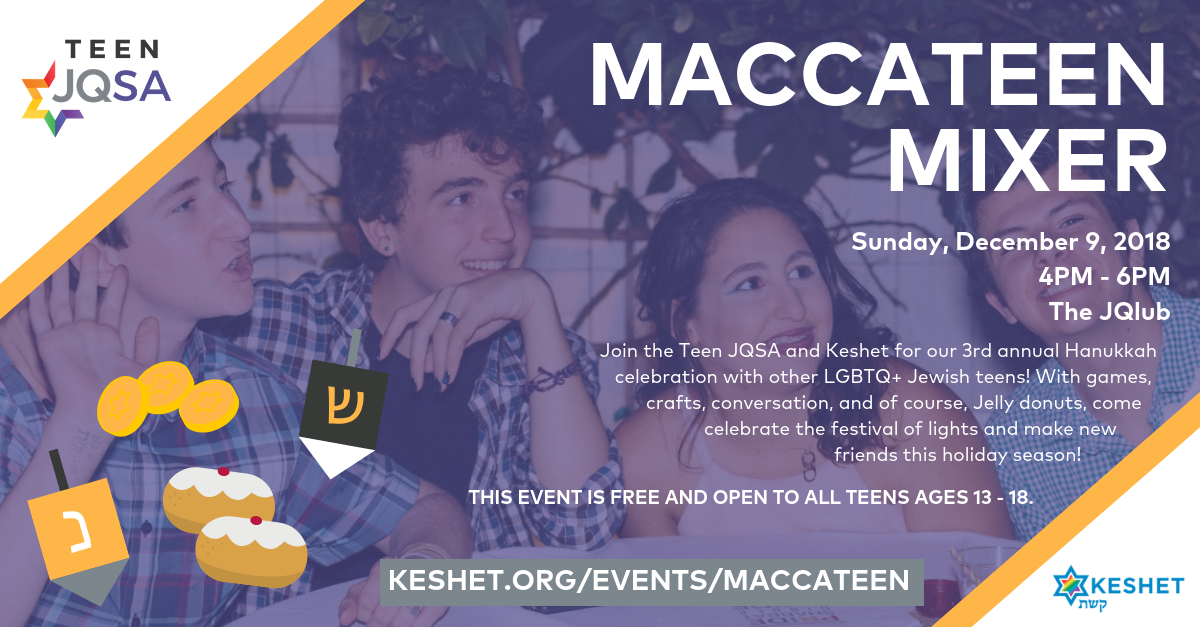 Event Details

Join LGBTQ+ and ally teens from around Los Angeles for a spectacular Hanukkah party, complete with jelly donuts, dreidels, amazing people, and more!

Learn about exciting opportunities for LGBTQ+ and ally teens with JQ International's Teen JQSA and the upcoming Keshet LGBTQ & Ally TeensWest Coast LGBTQ and Ally Teen Shabbaton (March 15-17, 2019 at Brandeis-Bardin in Simi Valley)!

We'll have games, crafts, awesome conversation and more as we celebrate the Festival of Lights!

FREE RSVP HERE: https://www.keshetonline.org/events/maccateen-mixer-registration/#.W9ndWxNKiqB

Sunday, December 9th
4PM – 6PM
@ The JQlub
801 Larrabee St. West Hollywood, CA 90069

This event is open to ALL teens ages 13 – 17.
Time

(Sunday) 4:00 pm - 6:00 pm